Our highest goal is to deliver exceptional results to thrilled clients. Our professionals are leaders in the industry sectors we cover – dedicated to creating unique and powerful solutions for our clients. Each has earned a reputation for integrity, trust, and taking a professional approach to the transaction and advisory services we offer.
Our objective is to have long-standing relationships with our clients, so it is only natural that we advise with their long-term interests at heart. We know it takes great people to build great financial services companies. ECHELON's professionals are dedicated to helping you build yours.
---
Our Leadership
Dan B. Seivert, CEO and Managing Partner |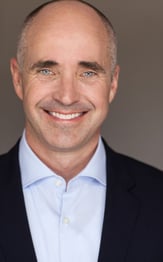 Dan Seivert is the CEO and founder of ECHELON Partners – one of the leading investment banks and consulting firms to the wealth and investment management industries. Prior to starting ECHELON, Mr. Seivert was one of the initial principals of Lovell Minnick Partners, where he helped invest over $100MM in venture capital across 15 companies. Before his involvement in private equity, Mr. Seivert was a buy-side analyst at The Capital Group (American Funds) where he valued firms in the asset management and securities brokerage industries. Mr. Seivert's initial job at Capital was in the capacity of strategic planning and marketing research, where he worked directly for several chairmen of the company as well as the fund boards. Mr. Seivert began his career in the M&A department of Skadden, Arps, Slate, Meagher & Flom.
Over the past 20 years, Mr. Seivert has worked with over 300 executive teams and boards to help them envision, initiate, and execute a diversity of complex business strategies and transactions. As their trusted advisor, Mr. Seivert has helped these clients make the tough decisions with respect to acquisitions, sales/divestitures, investments, mergers, valuation, M&A strategy, new ventures, management buyouts, capital raising, equity sharing, and succession planning. In his various roles, Mr. Seivert has conducted detailed valuations on over 500 companies, evaluated more than 2,000 acquisition targets, and authored 25 reports dealing with the wealth and investment management industries. During this time Mr. Seivert has served on the Board of Directors of AssetMark Investment Services, BridgePortfolio, and Occidental College.
Mr. Seivert is a frequent keynote speaker for corporate clients and at industry events. Mr. Seivert has been quoted extensively as a leading authority in the private wealth market by several top industry publications. Mr. Seivert is the President and founder of ECHELON's FINRA-registered broker dealer (Echelon Capital, LLC). He has an Advanced Bachelor's degree in Economics from Occidental College and a Master of Business Administration from UCLA's Anderson School of Management. Mr. Seivert is a native of Los Angeles and currently resides in Manhattan Beach, California.
Michael A. Wunderli, Managing Director |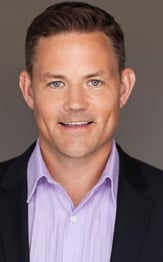 Mike Wunderli is a Managing Director at ECHELON Partners and is integrally involved in all aspects of the firm's activities. Prior to joining ECHELON, Mr. Wunderli founded Connect Capital Group (CCG) where he advises private, middle-market companies on pre-transaction planning, growth financing options and the development and execution of exit strategies. He also works closely with the private-equity and venture-capital communities to evaluate acquisition & investment targets and source proprietary deal flow.
Before founding CCG, Mr. Wunderli spent 12 years at Lehman Brothers and UBS as a Senior Vice President in the Private Wealth Management division. There he pioneered one of the industry's most successful cross-divisional business practices, in which he first helped entrepreneurs and business owners engineer liquidity events for their companies, then helped them strategically redeploy their transaction proceeds into long-term, globally diversified investment portfolios. During his time at Lehman Brothers and UBS, Mr. Wunderli helped his clients execute over $2 billion in investment-banking and private-equity transactions, and he managed over $400 million of investments for his high-net-worth clients.
Over his career, Mr. Wunderli has worked with hundreds of private companies, helping their owners navigate the critical stages of growth and engineer the most appropriate and lucrative exit strategies such as: full and partial sales, recapitalizations, LBOs, ESOPs, IPOs, succession plans, etc. He has also worked with many top investment managers, hedge funds, private-equity funds, family offices, trading desks and a variety of capital providers. Prior to his Wall Street experience, Mr. Wunderli spent 4 years as a business development manager for Marriott International's new ventures initiative, where he helped develop and launch two new ancillary businesses for the blue chip company.
Mr. Wunderli has a B.A. degree from Brigham Young University and an M.B.A. from The Wharton School at the University of Pennsylvania. He also holds FINRA Series 7, 66 and 79 registrations. Mr. Wunderli currently resides in Redondo Beach with his wife and four sons.
Carolyn A. Armitage, CFP®, CIMA®, Managing Director |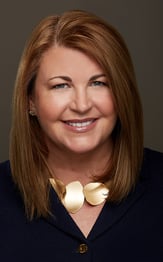 Carolyn Armitage is a Managing Director at ECHELON Partners, the leading investment bank and consulting firm to the wealth and investment management industries. As a serial enterprise builder of RIAs, Hybrids and Broker/Dealers, Ms. Armitage helps CEOs make better informed strategic planning decisions, improve their enterprise value, and design the proper legacy.
With a strategic and holistic approach to each engagement, Ms. Armitage provides valuations, expert witness, management consulting and investment banking services. For mergers and acquisitions, Ms. Armitage is an influential woman who understands the complexities of wealth and asset managers and offers an objective perspective, advice and implementation guidance.
Ms. Armitage's areas of expertise include transaction advisory services, mergers and acquisitions with an emphasis on founder-owned businesses, corporate and family office governance, strategy, and succession planning.
Ms. Armitage's experience includes roles as an independent Financial Advisor, producing Branch Manager, the head of multiple wealth management teams such as HD Vest – now Advantax, ING Advisors Network – now Voya & Cetera, among others. She also led the Large Enterprise Business Management Consulting team for LPL Financial. Her extensive experience affords her a rare and valuable command of the entire wealth management value chain to help entrepreneurs navigate complex entity, family, and legacy decisions.
In addition to holding numerous FINRA licenses, she holds the CFP® & CIMA® designations. She has a Bachelor of Science in Business Administration from the University of Minnesota and a Masters in Management from The American College.
Mark Bruno, Managing Director |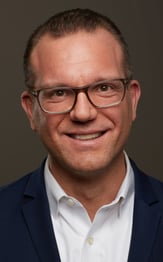 Mark Bruno is a Managing Director for ECHELON Partners. Prior to joining ECHELON, Mr. Bruno was the Managing Director and Associate Publisher at InvestmentNews, where he was responsible for overseeing a wide range of businesses, including IN's research, content strategy, digital, custom publishing and sales groups. Mr. Bruno was with InvestmentNews for 12 years and helped establish the company as the leading B2B media brand in the wealth management industry. He played an integral role in the sale of InvestmentNews from Crain Communication to Bonhill Plc in 2018.
Mr. Bruno is an award-winning journalist, author and researcher who has written and edited for a number of financial publications over the past two decades, including InvestmentNews, Financial Week, Pensions & Investments and U.S. Banker. Mr. Bruno has also been featured in the Wall Street Journal, Forbes and the Chicago Tribune for his expertise in wealth and investment management. Mr. Bruno has received numerous accolades for his writing and reporting, including the American Business Media's prestigious Jesse H. Neal award, and for his breaking news coverage and analysis of the financial services industry by The Society of American Business Editors and Writers. Mr. Bruno is the author of Save Now or Die Trying: Achieving Long-Term Wealth In Your 20s and 30s, one of the top-selling retirement planning books of 2007.
Mr. Bruno lives in Jericho, NY, with his wife Wendy and twin daughters Emma and Layla.
Andrea W. Polizzi, Vice President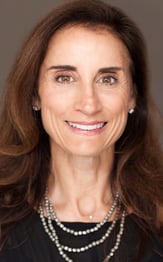 Andrea Polizzi is a Vice President at ECHELON Partners. Ms. Polizzi leads the strategic planning and execution for the team responsible for developing events for executives, registered investment advisors and industry service providers. She also coordinates the marketing strategy, branding, and messaging for the Deals & Deal Makers Summit. In association with this event, she manages the marketing budget and calendar and maintains all collateral, communications, and distribution lists. She is also responsible for cultivating and nurturing strategic partnerships throughout the RIA space and broader financial services community to enhance business development opportunities and sponsorships.
Ms. Polizzi possesses 15+ years of senior level marketing, communications, and event management experience, primarily focused on the financial services industry. She is a marketing leader with extensive experience in managing teams across a full range of hands on strategy, marketing, and communications projects and possesses a depth of experience in creating and managing conferences and events.
Barnaby R. Audsley, Vice President|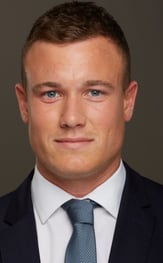 Barnaby Audsley is a Vice President at ECHELON Partners and focuses on a diversity of M&A advisory, investment banking, consulting, and research assignments. Prior to joining ECHELON Partners, Mr. Audsley worked as an Investment Associate for Bel Air Investment Advisors, a $9bn multifamily office based in Los Angeles. During his time with Bel Air, Mr. Audsley focused on private equity and assisted in the sourcing and underwriting of fund and direct transactions. Furthermore, he conducted market research to identify attractive asset classes, industry trends, and investment opportunities.
Mr. Audsley has a B.A. in Economics from Occidental College where he was a Director on the student-run investment portfolio. He is currently furthering his education by pursuing his CFA (Level II Candidate). He is a mentor for Play Rugby USA, a non-profit focused on developing youth through rugby. Mr. Audsley grew up in London and now resides in Venice, CA.
Sam B. Sphire, Analyst |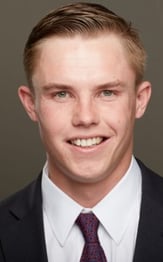 Sam Sphire is an Analyst at ECHELON Partners and focuses on a diversity of M&A advisory, investment banking, consulting, and research assignments. Before joining ECHELON, Sam worked as a Summer Analyst at Brookside Mezzanine Partners where he analyzed potential investments for the firm's investment funds.
Mr. Sphire has a B.S. in Management with concentrations in Finance and Information Systems from the Carroll School of Management at Boston College where he was a member of the Honors Program Alumni Relations Committee and Outdoor Adventures Club. Mr. Sphire grew up in Encinitas, CA and now resides in El Segundo, CA.
---
Our Network
Our high-quality network of industry-specific relationships gives us the ability to conduct valuable research, make powerful introductions, and achieve greater success for our clients. The quality of our relationships allows us to meaningfully extend the magnitude of our experience with a simple meeting or phone call. The ECHELON network of relationships extends into the categories outlined below: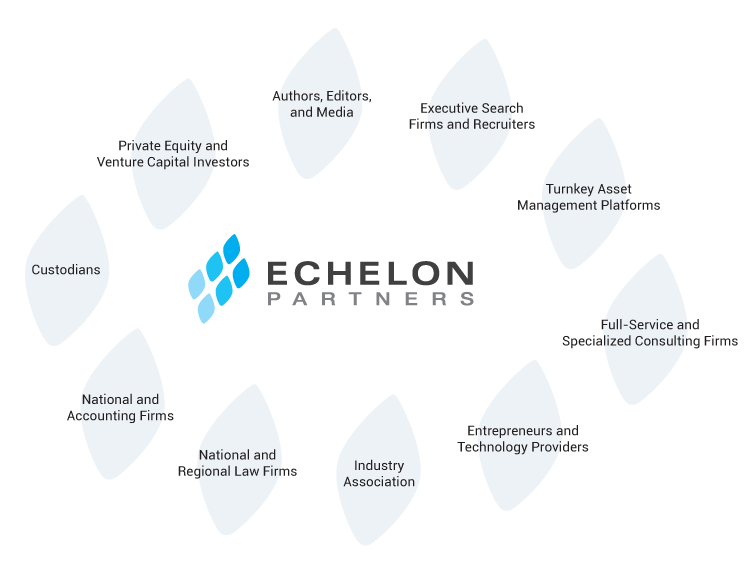 ---
Testimonials
"As a small-firm partner, I cannot imagine a future without ECHELON at my side. I find them an invaluable resource that provides a tremendous benefit to the firm. The time and patience of Dan to explain and provide a perspective on important aspects of practice administration such as valuation, industry trends, and opportunities for growth are much appreciated by all partners. ECHELON's insight is invaluable and delivered in a most professional manner sensitive to the needs of our business. RIAs are missing the boat if they are not working on their strategic initiatives with ECHELON."
David George, Managing
Partner- Wealth Management Group