Fast Facts About ECHELON
ECHELON's client focus is exclusively on investment managers, wealth advisors, and the technology and service companies that connect them.
Industry Leaders – Over 400 engagements representing $40 billion as well as over 1,500 valuations
ECHELON's core services include M&A advisory, investment banking, management consulting, valuation, and board advisory.
Our products include research reports, legal documents, databases, financial models, and tools and technologies.
ECHELON Partners was founded in 2001, giving us over 15 years of operating history.
ECHELON Capital LLC, our broker dealer affiliate, is a member of both FINRA and SIPC, which allows us to conduct investment banking activities.
We are employee-owned and free from any parent company, outside investors, and the related conflicts they often bring.
We have offices in Los Angeles and are headquartered in Manhattan Beach, California.
Clients want and deserve the best in overall services, industry knowledge, relationships, and senior-level experience. In the complex world of wealth advisors, investment product developers and distributors, we believe no other firm offers a higher set of skills, expertise, and mission-critical advice to leading CEOs and industry decision makers. When you want to explore your firm's highest potential, consider ECHELON Partners' full suite of investment banking, consulting, and valuation services. With years of transaction experience on some of the most strategic transactions in the industry, we bring our unique approach to your firm to maximize value to your shareholders.
Our services include investment banking, management consulting, valuation, and board advisory.
Our resources include research reports, legal contracts, databases, financial models, and tools and technologies.
Our team consists of experienced professionals dedicated to helping you build a great financial services company.
---
Our History and Name
ECHELON Partners was founded in 2001 by Dan Seivert, the firm's current CEO and Managing Partner. ECHELON was founded to:
Address the needs of an underserved subset of the financial services industry—investment product developers, distributors, and technology providers.
Deliver investment banking, management consulting, and valuation services from one platform so as to offer clients powerful, holistic, integrated solutions.
Provide objective, unbiased advice void of conflicts emblematic of larger institutions.
Help entrepreneurs working at companies of all sizes navigate the numerous complex decisions that come with attaining growth.
Dan began researching the wealth and investment management industries over 20 years ago as an analyst conducting strategy research for the chairmen of The Capital Group Companies and American Funds. In that capacity, he worked directly with nearly 200 executives from the top 50 financial institutions to provide "buy and sell" recommendations to the portfolio managers at The Capital Group. Additionally, he was afforded the opportunity to work extensively with some of the greatest minds in the business, including Michael Goldstein, Guy Moszkowski, Sallie Krawcheck, Kurt Cerulli, Avi Nachmany, Steve DeLano, Neil Bathon, Steve Eisman, Dean Eberling, Sandy West, Paul Schaeffer, Paul Haaga, Don Conlan, and Graham Holloway.
In 1998, Dan left The Capital Group to help start Lovell Minnick Partners, a private equity firm focused on investing in the wealth and investment management industries. Dan's experience with valuing, buying, and adding value to the boards of wealth and investment management firms was the genesis for the formation of ECHELON Partners.
The Meaning of ECHELON
Our firm started out as "3C Financial Partners" but was updated in 2008 to "ECHELON" because of the word's multiple meanings, which embody both the role we play for our clients and our founder's passion for cycling. An echelon formation is one in which members are arranged diagonally. Each member is stationed either behind and to the right (a right echelon) or behind and to the left (left echelon) of the member ahead, just as in our logo. The name of the formation comes from the French word échelle, meaning ladder, which describes the staircase effect that this formation has when viewed from above.
An Echelon Formation in Cycling
In the sport of cycling, an echelon is the key formation used by bike racers to combat winds that hit the peloton at an oblique angle. In such instances the riders use the echelon to strategically use the blocking position of the cyclist in front of them. In effect, they develop a shelter to escape the wind drag. This significantly reduces the work required to maintain a certain speed as compared to facing the wind alone and allows the cyclist to conserve valuable energy. Inside an echelon there is a great deal of teamwork, cooperation, and spontaneous coordination … and it's all done to conserve resources, maximize speed, increase the advantage over the competition, and maximize each cyclist's probability of winning the race.
Winds of Change for Businesses
For businesses, winds of change often come in the form of competitive pressures, changing industry economics, and/or adverse industry trends. When these winds are powerful, they can turn strategies upside down, weaken the strong, and destroy the ill-prepared. The subsequent challenges can wear down a management team and expose its weaknesses. Together, these obstacles can signal real problems for a firm. For cyclists and entrepreneurs alike, a windy environment demands a level of judgment far in excess of what is required in tranquil conditions. Surmounting these obstacles time and time again is often what makes for a strong management team and a strong company. At ECHELON we help our clients overcome complicated and vexing challenges to achieve their goals in a way that keeps them free and clear of these business risks.
ECHELON's Role with Clients
Just as professional cyclists use an echelon to position themselves for success, our clients rely on us to help them:
Take a strategic approach to their business and view decisions objectively
Maximize the utilization of their resources: their employees and the dollars they invest in the company
Stay informed with respect to important market and competitive developments
Ensure preparedness to quickly capitalize on market opportunities and minimize the effect of negative trigger events
Climb to the top of the ladder to achieve industry leadership positions in various categories
Work more intelligently and effectively as a team
---
Why ECHELON
At ECHELON Partners, our clients always come first. By putting our clients first, we ensure that we meet and exceed their expectations and deliver visionary advice and execution excellence. Additionally, ECHELON Partners brings a unique set of qualifications that make us a leader in strategic advisory and financial services. Some of our qualifications are summarized below:
ECHELON Partners Consistently Recognized by Industry Professionals
ECHELON Partners is consistently regarded atop its peers by management teams, company boards, and industry service providers. Our Founder and Managing Partner, Dan Seivert, has been involved in some of the industry's most prominent engagements and is recognized among the top investment bankers in the investment industry. Clients continue to put their faith, trust, and shareholder value into the hands of ECHELON Partners because they know we are dedicated to meeting and exceeding their objectives.
Wealth and Investment Management Industry Experience
ECHELON Partners is the only investment bank and consulting firm focused exclusively on investment product developers, distributors, and intermediaries. Clients want experts who understand their industry—its trends, and challenges. Our relentless focus on these sectors allows us to relate these dynamics to meet the specific needs of our clients in a way no other investment bank or consulting firm can.
Execution Experience and Excellence
ECHELON Partners' senior investment banking professionals come with years of significant transaction experience from leading investment banks and private equity firms, where they were leaders in their respective areas. These senior professionals have evaluated and executed some of the most complex M&A and financing transactions in this industry, delivering unmatched execution capabilities to our clients. In so doing, they have built ECHELON's reputation for professionalism and excellence in transaction and project execution.
Deep Relationships with Industry Leaders and Centers of Influence
A robust network of deep, long-standing relationships gives ECHELON the ability to conduct valuable research, make powerful introductions, and achieve success in client engagements. We believe the quality of our senior-level relationships is unmatched and extends the magnitude of our experience and expertise with a simple call. ECHELON leverages its extensive relationships within the wealth and investment management industries to execute superior client solutions.
Client Focus and Integrity
Our clients' interests always come first. Our unrelenting integrity and client commitment are paramount to our success and permeates everything we do. We are dedicated to building lasting, long-term relationships with our clients. We are able to commit our most senior resources to clients and their respective projects from beginning to end. Thus, unlike larger investment banks or consulting firms, we provide clients with a true partnership regarding their most mission-critical strategic decisions.
Affinity toward Entrepreneurship
ECHELON's professionals have worked side by side with hundreds of entrepreneurs. Whether at a small start-up or inside a large corporation, we know entrepreneurs often like to go it alone. At some point, however, outside assistance becomes a requisite for the success of a company's promising ventures. Mindful of this necessity, ECHELON is dedicated to providing the constructive guidance its clients passionately need to bring their dynamic ideas to fruition.
---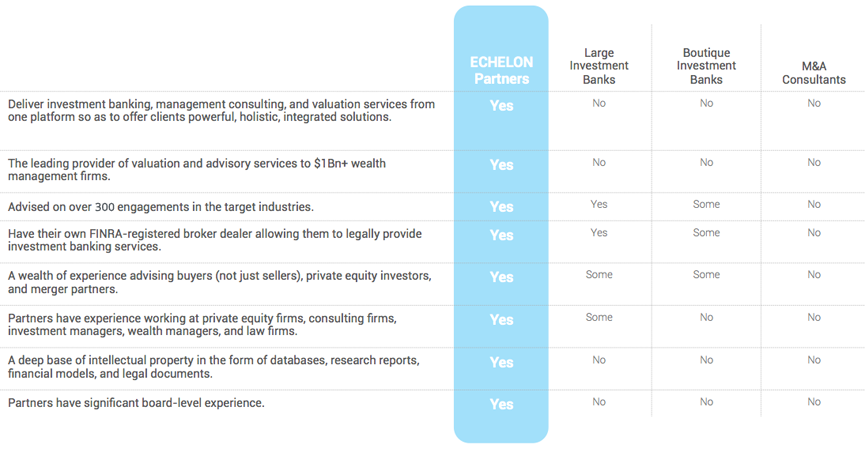 Testimonials
"ECHELON Partners provided Lydian with invaluable strategic insight into its overall positioning in the high-net-worth marketplace across several projects. Their ongoing research and analysis has allowed Lydian to fine-tune its positioning as market conditions continue to change. We view ECHELON as a long-term strategic partner in the high-net-worth private banking and wealth management sectors."
Rich Bursek, EVP
COO - Lydian Bank & Trust